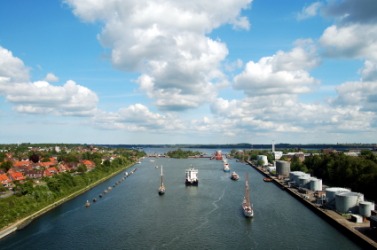 The Kiel canal in Kiel, Germany.
---
Kiel Canal
canal in N Germany, connecting the North Sea & the Baltic Sea: 61 mi (98 km)
---
Kiel Canal
also Nord-Ost·see Ka·nal
A canal, 98 km (61 mi) long, of northern Germany connecting the North Sea with the Baltic Sea. Built (1887–1895) to facilitate movement of the German fleet, it was widened and deepened from 1907 to 1914.
---