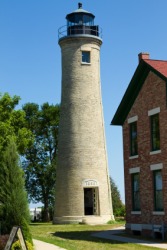 An old lighthouse in Kenosha.
---
Kenosha
city in SE Wis., on Lake Michigan: pop. 90,000
Origin of Kenosha
probably ultimately ; from Ojibwa
ginoozhe
, northern pike
---
Kenosha
A city of extreme southeast Wisconsin on Lake Michigan north of Chicago, Illinois. Founded in 1835, it developed as a port.
---