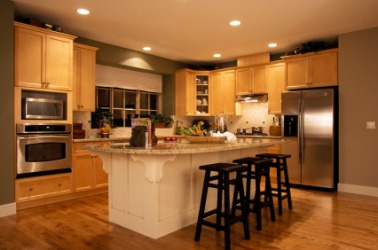 A well kempt kitchen.
adjective
The definition of kempt is someone or something which is neat and tidy.

An example of kempt used as an adjective is a kempt kitchen which is a clean kitchen.
---
kempt
neat; tidy; well-groomed
Origin of kempt
ME, combed: in mod. use, back-formation from unkempt
---
kempt
adjective
Tidy; trim: a nicely kempt beard.
Origin of kempt
Back-formation from
unkempt
---
kempt

Usage notes
Less common than unkempt. Often used in compound well-kempt or phrase "well kempt", which may be criticized as redundant; compare well-groomed.
Origin
Originally a past participle of Old English cemban ("to comb"). Modern uses are back-formations from the negative unkempt.
---