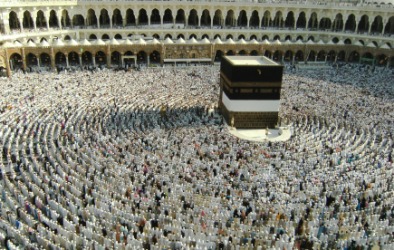 The Muslim shrine of Kaaba.
---
Kaaba definition by Webster's New World
noun
the sacred Muslim shrine at Mecca, toward which believers turn when praying: it contains a black stone venerated as holy
Origin: Arabic kaʿba, literally , square building ; from kaʿb, a cube
Webster's New World College Dictionary Copyright © 2010 by Wiley Publishing, Inc., Cleveland, Ohio. Used by arrangement with John Wiley & Sons, Inc.
---
Kaaba definition by American Heritage Dictionary
noun
A Muslim shrine in Mecca toward which the faithful turn to pray.
Origin: Arabic ka'ba, cube, cubic structure, from ka'aba, to swell, be full (said of breasts); see kעb in Semitic roots.