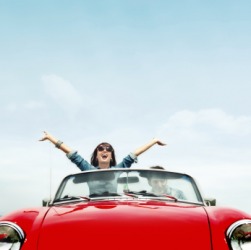 A couple out for a joy ride.
---
joy ride
☆
Informal
an automobile ride merely for pleasure, often at a reckless speed and sometimes, specif., in a stolen car
---
joy ride
noun
Slang
A ride taken for fun and often for the thrills provided by reckless driving.
A hazardous, reckless, often costly venture.
Related Forms:
---
joy ride
Noun
(plural joy rides)
Alternative spelling of joyride.
---