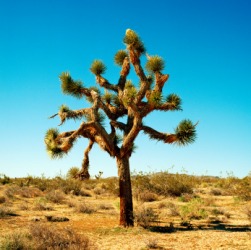 A Joshua tree in California.
---
Joshua tree definition by Webster's New World
☆
a tree (Yucca brevifolia) of the agave family, found in the SW U.S. and characterized by branches that are extended grotesquely like upraised arms and by dagger-shaped, spine-tipped leaves
Origin: uncertain or unknown; perhaps Mormon coinage on the fancied resemblance of the angular branches to the arms of Joshua leading the Israelites
Webster's New World College Dictionary Copyright © 2010 by Wiley Publishing, Inc., Cleveland, Ohio. Used by arrangement with John Wiley & Sons, Inc.
---
Joshua tree definition by American Heritage Dictionary
noun
A treelike plant (Yucca brevifolia) of the southwest United States, having sword-shaped leaves and greenish-white flowers grouped in large panicles.
Origin: Probably after Joshua1, from the resemblance of the tree's greatly extended branches to Joshua's outstretched arm as he pointed with his spear to the city of Ai (Joshua 8:18).