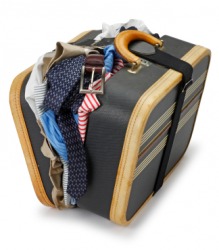 A jampacked suitcase.
adjective
The definition of jampacked is something that is tightly filled or crammed.

An example of jampacked is a schedule where you are booked with appointments or tasks for every hour.
---
jampacked
Informal
tightly packed; crammed
---
jampacked

Adjective
(comparative more jampacked, superlative most jampacked)
Alternative spelling of jam-packed.
Verb
simple past tense and past participle of jampack
---