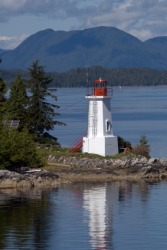 Lighthouse on the Inside Passage.
---
Inside Passage
☆
protected sea route along the W coast of North America, from Seattle, Wash., to the N part of the Alas. panhandle: the route uses channels and straits between islands and the mainland: c. 950 mi (1,529 km) long
---
Inside Passage
also Inland Passage
A natural protected waterway extending about 1,600 km (1,000 mi) from Puget Sound to Skagway, Alaska. It threads through the Alexander Archipelago and is known for its snow-capped mountains, waterfalls, and glaciers.
---