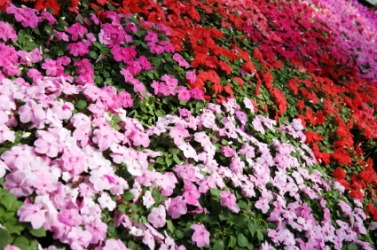 A field of impatiens.
---
impatiens
noun
any of a genus (Impatiens) of plants of the balsam family, with spurred flowers and pods that burst and scatter their seeds when ripe
Origin of impatiens
Modern Latin ; from L: see impatient
---
impatiens
noun
pl.
impatiens
Any of various plants of the genus Impatiens, especially several species that are widely cultivated for their colorful flowers and attractive foliage. Also called balsam.
Origin of impatiens
Latin
impatiēns
,
impatient (so called because the ripe pods burst open when touched)
; see
impatient
.
impatiens
Impatiens walleriana
---
impatiens
Noun
(plural impatiens)
Any of various ornamental plants of the genus Impatiens
---