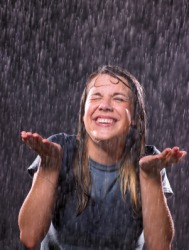 This girl is ill-equipped for the rain.
adjective
The definition of ill equipped is a state of being without the tools or capabilities to accomplish or cope with something or to do some task.

A person with no umbrella or raincoat is an example of a person who is ill equipped to deal with the rain.
---
ill-equipped
not properly equipped; poorly prepared
---
ill-equipped
adjective
Poorly or inadequately equipped.
---
ill-equipped

Adjective
(comparative more ill-equipped, superlative most ill-equipped)
Not well equipped; lacking important resources and supplies
---