noun
The definition of identity theft is the misappropriation of someone's identity or personal identifying information to obtain credit, services or other benefits under the name of the person whose identity has been stolen.

An example of identity theft is when someone uses your social security number and other personal information to apply for a new credit card without your permission.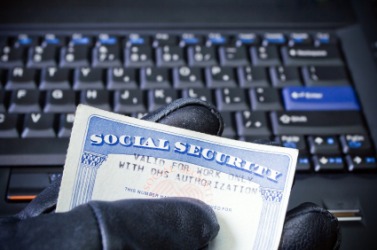 Identity theft is a serious issue.
---
identity theft definition by Webster's New World
noun
the unauthorized use of private information concerning some person, as his or her Social Security or PIN number, to engage in fraudulent activities under that person's name
Webster's New World College Dictionary Copyright © 2010 by Wiley Publishing, Inc., Cleveland, Ohio. Used by arrangement with John Wiley & Sons, Inc.
---
identity theft - Business Definition
The unauthorized use of an individual's personal identifying information such as a Social Security number or credit card number to create fraud. For example, someone may engage in identity theft by opening a credit card account using the name and personal information of another person. Someone who is a victim of identity theft should file an ID Theft Complaint with the Federal Trade Commission and an Identity Theft Report with the police.
The American Heritage® Dictionary of Business Terms Copyright © 2010 by Houghton Mifflin Harcourt Publishing Company. Published by Houghton Mifflin Harcourt Publishing Company. All rights reserved.
---
identity theft - Computer Definition
Stealing the identity of others by using their credit card, drivers license, social security or other personal identification numbers. With "true name" identity theft, the thief uses the information to open new accounts. With "account takeover" identity theft, the thief uses the information to access existing accounts. Not only can the thieves run up bills for the victims, but they can commit crimes pretending to be the victim, who may have enormous difficulty proving otherwise. Although catalog shopping by telephone has been around for decades, it is possible that an order taker might find someone acting suspicious. However, the complete lack of human interaction on the Web has caused identity theft to increase. In 1998, the U.S. Congress made identity theft a federal offense.