abbreviation
The definition of an HOV lane is an abbreviation for high occupancy vehicle lane, a lane which is reserved for commuters with more than a set number of riders in the car. The definition of cars without the designated minimum number of riders are subject to fees and ticketing.

An example of HOV is the type of lane that is open only for 3 passengers or more during rush hour and is designated with a diamond shape.
YourDictionary definition and usage example. Copyright © 2013 by LoveToKnow Corp.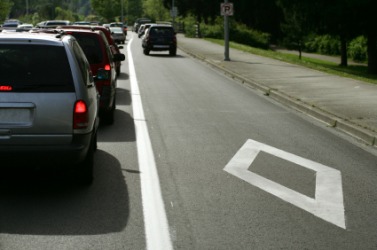 The diamond indicating an HOV lane.
Licensed from iStockPhoto
---
noun
An expressway lane restricted to vehicles with at least a set minimum of occupants, usually two.
The American Heritage® Dictionary of the English Language
, 4th edition Copyright © 2010 by Houghton Mifflin Harcourt Publishing Company. Published by Houghton Mifflin Harcourt Publishing Company. All rights reserved.