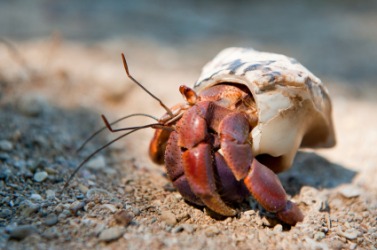 A Caribbean hermit crab.
---
hermit crab
any of various crabs (esp. family Paguridae) that have asymmetrical, soft abdomens and live in the empty shells of certain mollusks, as snails
---
hermit crab
noun
Any of various decapod crustaceans of the superfamily Paguroidea that have a soft asymmetrical abdomen and occupy the empty shells of gastropod mollusks.
hermit crab
strawberry land hermit crab
Coenobita perlatus
---
hermit crab
Noun
(plural hermit crabs)
A type of crab from the superfamily Paguroidea, which salvages empty seashells or other portable objects to permanently shelter and protect their soft abdomens.
---