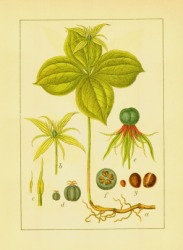 An illustration of the herb Paris plant.
---
herb Paris definition by Webster's New World
a woodland plant (Paris quadrifolia) of the lily family, with yellowish-green flowers, similar to the trillium, but having its leaves and flower parts in fours instead of threes
Origin: Midieval Latin herba paris, literally probably , herb of a pair (; from Classical Latin herba, herb plush paris, genitive of par, a pair: see par, in allusion to even number of flower parts): associated, association with Paris by folk etymology
Webster's New World College Dictionary Copyright © 2010 by Wiley Publishing, Inc., Cleveland, Ohio. Used by arrangement with John Wiley & Sons, Inc.
---
herb Paris definition by American Heritage Dictionary
noun
A European plant (Paris quadrifolia) having a whorl of four leaves and a solitary yellow or greenish flower.
Origin: Probably Medieval Latin herba paris, herb of a pair (perhaps a reference to the two pairs of leaves on the whorl) : Latin herba, herb + Latin paris, genitive of pār, equal; see par.