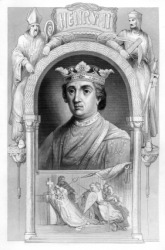 Henry II of England.
---
Henry II
1133–1189.
King of England (1154–1189). The son of Princess Matilda, he founded the Plantagenet royal line and appointed Thomas à Becket as archbishop of Canterbury. His quarrels with Becket concerning the authority of the Crown over the Church led to the murder of the archbishop (1170).
1519–1559.
King of France (1547–1559). The son of Francis I, he regained Calais from the English (1558).
---