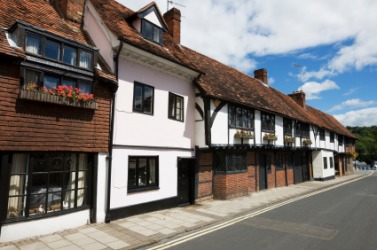 A street in Henley.
noun
The definition of a henley is a crew neck knit shirt with a banded collar and a multi-button placket that extends from the neck to the middle of the chest, or a city in England on the River Thames.

A cotton shirt with a banded collar and a placket is an example of a henley.
The site of the oldest rowing regatta in Europe is an example of Henley.
---
henley
a knit shirt, top, etc. typically having a crew neck with a band collar, and a buttoned placket
Origin of henley
after Henley: style based on the shirt worn by rowers in the regatta held there
Henley
city in SE England, on the Thames: site of an annual rowing regatta
---
henley
noun
pl.
hen·leys
A collarless knit shirt with long or short sleeves and buttons extending partway down the front.
Origin of henley
After
Henley
where such shirts were traditionally worn by crews rowing in the annual regatta held there
Henley
or Hen·ley-on-Thames
A town of south-central England west of London, noted for its annual rowing regatta (established 1839).x
---
henley

Origin
From the town of Henley in England, where the rowers wore shirts of this type
---