henley
[hen′lē]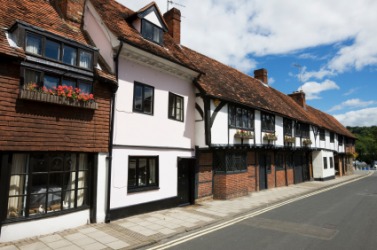 A street in Henley.
noun
The definition of a henley is a crew neck knit shirt with a banded collar and a multi-button placket that extends from the neck to the middle of the chest, or a city in England on the River Thames.

A cotton shirt with a banded collar and a placket is an example of a henley.
The site of the oldest rowing regatta in Europe is an example of Henley.
---
henley
noun
a knit shirt, top, etc. typically having a crew neck with a band collar, and a buttoned placket
city in SE England, on the Thames; site of an annual rowing regatta: pop. (1981 census) 11,000
---
henley
noun
pl.
hen·leys
A collarless knit shirt with long or short sleeves and buttons extending partway down the front.
Origin of henley
After
Henley
,
where such shirts were traditionally worn by crews rowing in the annual regatta held there
.
or Hen·ley-on-Thames
A town of south-central England west of London, noted for its annual rowing regatta (established 1839).
---
henley
Origin
From the town of Henley in England, where the rowers wore shirts of this type
---