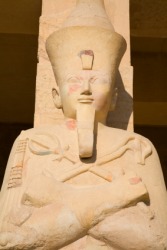 A statue of Queen Hatshepsut.
---
Hatshepsut
also Hat·shep·set Died c. 1482 BC.
Queen of Egypt (1502–1482) who on the death of her husband, Thutmose II (c. 1504), became regent for her stepson Thutmose III. She bestowed the title of pharaoh on herself and adopted all the pharaonic customs, including the wearing of a false beard.
Hatshepsut
granite sculpture
---