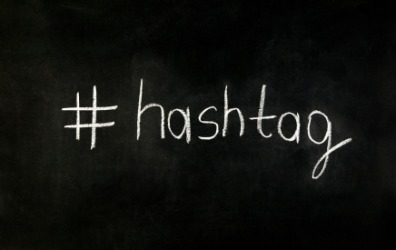 The pound sign is the hashtag.
noun
The definition of a hashtag is the pound mark used after a word in a Twitter post or "tweet" to show that you're commenting on a specific topic.

An example of a hashtag is to write about the president on Twitter and end your tweet with #Obama.
---
hashtag
a word or phrase preceded by the symbol (#), used in social networking to identify the subject of a conversation and to facilitate searches for that subject
Origin of hashtag
from hash + tag
---
hashtag
noun
Computers
A searchable keyword or sequence of characters prefixed with the pound sign (#), included in a tweet or other electronic communication and indicating the subject matter.
Origin of hashtag
hash
3
tag
1
---
hashtag

Verb
(third-person singular simple present hashtags, present participle hashtagging, simple past and past participle hashtagged)
(Internet) To label (a message) with a hashtag.
---
hashtag - Computer Definition
A means of providing a common topic identifier in text and chat messages so they can be searched as a group. Commonly used in tweets, the hashtag uses a number sign (#) prefix followed by text. Hashtags can be created and used to identify anything, including people, businesses, organizations, sports teams, political parties, hobbies, events, philosophies, moods, rants and raves. For example, the hashtag for the United States Marines is #marines. The athletically inclined might search for #triathlon or #ironman. See Twitter and bashtagging.
---