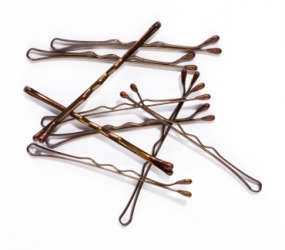 A pile of hairpins.
---
hairpin
noun
a small, usually -shaped, piece of wire, shell, etc., for keeping the hair or a headdress in place
adjective
formed like a hairpin: a hairpin turn
---
hairpin
noun
A thin cylindrical strip of metal or other material bent in the shape of a long U, used to secure a hairdo or headdress.
Something shaped like a hairpin, especially a sharp turn in a road.
hairpin
---
hairpin
Adjective
(not comparable)
Noun
(plural hairpins)
(biology) A kind of ribozyme; Hairpin ribozyme.
---