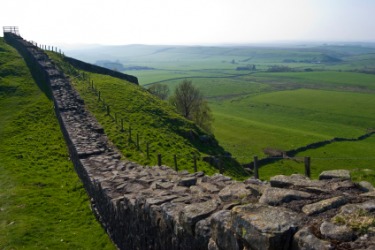 A section of Hadrian's Wall.
---
Hadrian's Wall
stone wall across N England, from Solway Firth to the Tyne: built ( 122-128) by Hadrian to protect Roman Britain from N tribes: 73.5 mi (118.3 km)
---
Hadrian's Wall
An ancient Roman wall, 118.3 km (73.5 mi) long, across northern England. Built by the emperor Hadrian c. AD 122–130 and extended by Severus a century later, the wall marked the northern defensive boundary of Roman Britain. Fragmentary ruins of the wall remain.
---
Hadrian's Wall
Origin
Named after the emperor Hadrian.
---