Gymnasium
[jim nā′zē əm; for 2 gim nä′zē o̵om′]
noun
The definition of a gymnasium is a room in a building meant for sports or athletic activities.

An example of a gymnasium is the room in a school where kids go for physical education and get to play basketball and other sports.
YourDictionary definition and usage example. Copyright © 2013 by LoveToKnow Corp.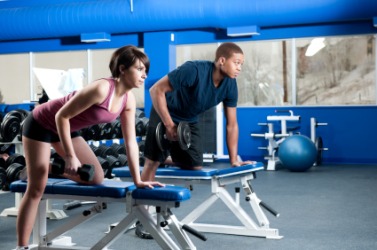 Two people working out at a gymnasium.
Licensed from iStockPhoto
---
noun
pl. gymnasiums or gymnasia
a room or building equipped for physical training and athletic games and sports
in Germany and some other European countries, a secondary school for students preparing to enter a university
Origin: L from Glassical Greek gymnasion, place for exercising from gymnazein, to train naked from gymnos, naked, stripped from Indo-European base an unverified form nogw- from source naked, Classical Latin nudus
Webster's New World College Dictionary
Copyright © 2010 by Wiley Publishing, Inc., Cleveland, Ohio.
Used by arrangement with John Wiley & Sons, Inc.
---
noun
pl.
gym·na·si·ums
or
gym·na·si·a
Sports
A room or building equipped for indoor sports.
An academic high school in some central European countries, especially Germany, that prepares students for the university.
Origin: Latin, school, from Greek gumnasion, from gumnazein, to exercise naked, from gumnos, naked; see nogw- in Indo-European roots.
The American Heritage® Dictionary of the English Language
, 4th edition Copyright © 2010 by Houghton Mifflin Harcourt Publishing Company. Published by Houghton Mifflin Harcourt Publishing Company. All rights reserved.
Gymnasium
Variant of gymnasium
noun
pl. gymnasiums or gymnasia
a room or building equipped for physical training and athletic games and sports
in Germany and some other European countries, a secondary school for students preparing to enter a university
Origin: L from Glassical Greek gymnasion, place for exercising from gymnazein, to train naked from gymnos, naked, stripped from Indo-European base an unverified form nogw- from source naked, Classical Latin nudus