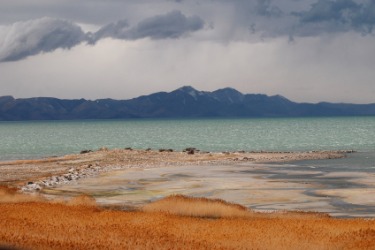 The Great Salt Lake.
---
Great Salt Lake
shallow saltwater lake in NW Utah, fluctuating greatly in size from 1,100 sq mi to 2,300 sq mi (2,849 sq km to 5,957 sq km)
---
Great Salt Lake
A shallow body of salt water of northwest Utah between the Wasatch Range on the east and the Great Salt Lake Desert on the west. The lake is a remnant of prehistoric Lake Bonneville, which covered an extensive area of the Great Basin.
---