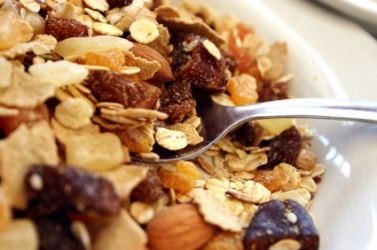 A bowl of granola.
---
granola
☆
noun
a breakfast cereal of rolled oats, wheat germ, sesame seeds, brown sugar or honey, raisins, nuts, etc.
Origin of granola
coined (
c.
1870) ; from uncertain or unknown; perhaps Classical Latin
granum
, grain +
-ola
, Italian diminutive suffix
---
granola
noun
Rolled oats mixed with various ingredients, such as dried fruit, brown sugar or honey, and nuts, and then baked. Granola is used especially as a breakfast cereal.
adjective
Slang
Crunchy-granola.
Origin of granola
Originally a trademark
.
---
granola
Noun
(countable and uncountable, plural granolas)
Usage notes
In Australia, Granola is maintained as a trademark by Sanitarium Health Food Company.
Origin
Generic of the former U.S. trademark Granola, from the then U.S. trademark Granula.
---