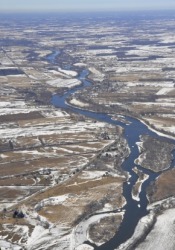 Grand River as seen from above.
---
Grand River definition by American Heritage Dictionary
A river of southeast Ontario, Canada, flowing about 265 km (165 mi) south and southeast to Lake Erie.
A river rising in southeast Iowa and flowing about 483 km (300 mi) southeast across northwest Missouri to the Missouri River.
A river, about 418 km (260 mi) long, of southern Michigan flowing north and northwest to Lake Michigan.
A river of northern South Dakota formed by the confluence of its northern and southern forks and flowing about 322 km (200 mi) eastward to the Missouri River. The North Fork rises in southwest North Dakota.