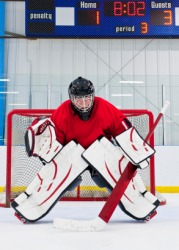 Goalkeeper at a hockey game.
---
goalkeeper
noun
in certain games, a player stationed at a goal to prevent the ball or puck from crossing or entering it
---
goalkeeper
noun
A player assigned to protect the goal in various sports. Also called goalie, goaltender, netkeeper, netminder.
---
goalkeeper
Noun
(plural goalkeepers)
(sports) a designated player that attempts to prevent the opposing team from scoring by protecting a goal.
Usage notes
In ice hockey and lacrosse goaltender is the correct term and in most other sports goalkeeper is the correct term. However, the terms are often used interchangeably.
---