give a wedgie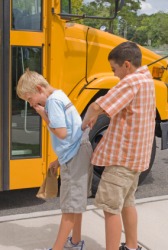 A boy gives a wedgie to another.
verb
The definition of give a wedgie is to pull someone's pants or underwear so far up that they become uncomfortably wedged between the cheeks of the person's butt.

An example of give a wedgie is when the school bully hangs the school nerd up from the flagpole by his underwear.
---