noun
The definition of a giggle is a silly laugh.

A silly or nervous little laugh is an example of a giggle.
verb
To giggle is defined as to laugh in a silly or twinkly way.

When you give a silly little laugh, this is an example of a time when you giggle.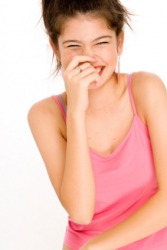 A woman giggles.
---
giggle definition by Webster's New World
intransitive verb
giggled, giggling
to laugh with a series of uncontrollable, rapid, high-pitched sounds in a silly or nervous way, as if trying to hold back; titter
Origin: 16th circa , probably ; from Dutch giggelen: for Indo-European base see gig
noun
the act or sound of giggling
---
giggle definition by American Heritage Dictionary
verb
gig·gled
,
gig·gling
,
gig·gles
verb
, intransitive
To laugh with repeated short, spasmodic sounds.
verb
, transitive
To utter while giggling.
noun
A short, spasmodic laugh.
Origin: Of imitative origin.
Related Forms: