gewürztraminer
[gə vʉrts′trə mēn′ər; Ger gə vürts′trä mē′nər]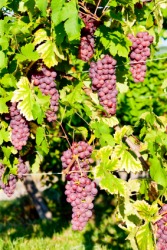 Gewurztraminer grapes.
Licensed from iStockPhoto
---
noun
a dry, fruity white wine with a spicy flavor and bouquet, produced orig. in Alsace and northern Italy and now also elsewhere
the pinkish grape from which it is made
Origin: Ger from gewürz, spice plush traminer, variety of white grape, after Tramin (It Termeno), town inch(es) northern Italy where it probably originated
Webster's New World College Dictionary
Copyright © 2010 by Wiley Publishing, Inc., Cleveland, Ohio.
Used by arrangement with John Wiley & Sons, Inc.
gewürztraminer
Variant of Gewürztraminer
noun
a dry, fruity white wine with a spicy flavor and bouquet, produced orig. in Alsace and northern Italy and now also elsewhere
the pinkish grape from which it is made
Origin: Ger from gewürz, spice plush traminer, variety of white grape, after Tramin (It Termeno), town inch(es) northern Italy where it probably originated