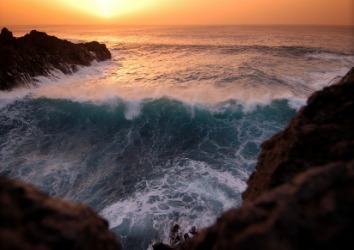 The movement of a tsunami can be described as gadarene.
adjective
The definition of gadarene is something that moves quickly and uncontrollably.

An example of gadarene is the movement of a tsunami.
---
Gadarene
moving rapidly and without control; headlong
Origin of Gadarene
after the
Gadarene
swine (Luke 8:26-39) that ran into the sea after demons possessed them
---
gadarene

Adjective
(comparative more Gadarene, superlative most Gadarene)
Pertaining to Gadara.
Origin
From the Late Latin Gadarēnus, from the Ancient Greek Γαδαρηνός (Gadarēnos, "inhabitant of Gadara"), from Γάδαρα (Gadara, "Gadara", now "Umm Qais").
---