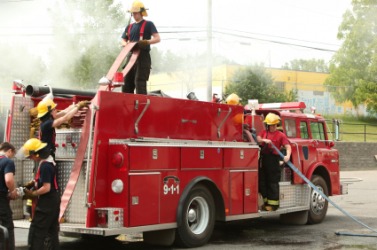 Firefighters with their fire engine.
---
fire engine
a motor truck with a special pumping apparatus for spraying water, chemicals, etc. on fires to put them out

loosely

any motor truck for carrying firemen and equipment to a fire
---
fire engine
noun
Any of various large motor vehicles that carry firefighters and equipment to a fire and support extinguishing operations, as by pumping water. Also called fire truck.
---
fire engine
Noun
(plural fire engines)
(firefighting) A vehicle used by firefighters to pump water to fight a fire. Typically, a fire engine carries a supply of water and has the ability to connect to an external water supply.
Any fire apparatus, such as a fire truck or fire engine.
Noun
attributive form of fire engine

fire-engine red
---