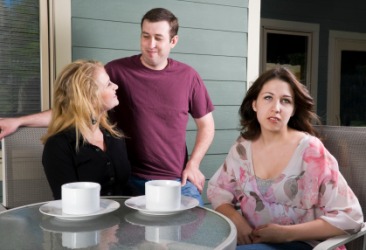 The woman on the right feels like a fifth wheel.
---
fifth wheel
a horizontal wheel-like structure placed over the front axle of a carriage or wagon to support it on turns
☆ a similar structure on the rear of the cab of a tractor-trailer, serving as a coupling for attaching the trailer

an unnecessary or superfluous person or thing
---
fifth wheel
noun
a. A wheel or portion of a wheel placed horizontally over the forward axle of a carriage to provide support and stability during turns.

b. A similar device over the rear axle or axles of a tractor or pickup truck, serving as a coupling for a semitrailer.

An additional wheel carried on a four-wheeled vehicle as a spare.
An extra and unnecessary person or thing.
---
fifth wheel
Noun
(plural fifth wheels)
---