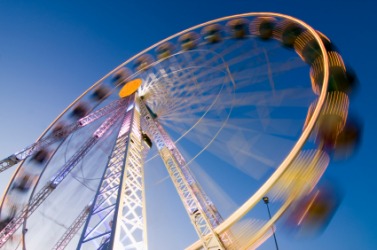 A spinning Ferris wheel.
Licensed from iStockPhoto
---
☆
a large, upright wheel revolving on a fixed axle and having seats hanging between two parallel rims: used as an amusement-park ride
Origin: after George W. G. Ferris (1859-96), United States engineer who constructed the first one for the World's Fair inch(es) Chicago inch(es) 1893
Webster's New World College Dictionary
Copyright © 2010 by Wiley Publishing, Inc., Cleveland, Ohio.
Used by arrangement with John Wiley & Sons, Inc.
---
also fer·ris wheel
noun
An amusement ride consisting of a large upright rotating wheel having suspended seats that remain in a horizontal position as the wheel revolves.
Origin: After George Washington Gale Ferris (1859-1896), American engineer.
The American Heritage® Dictionary of the English Language
, 4th edition Copyright © 2010 by Houghton Mifflin Harcourt Publishing Company. Published by Houghton Mifflin Harcourt Publishing Company. All rights reserved.