verb
To emblazon is defined as to decorate, or to make an obvious inscription or display.

When you print a team name in huge letters on a shirt, this is an example of when you emblazon the team name on the shirt.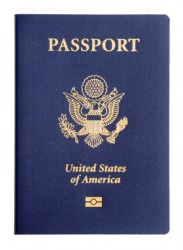 A U.S. passport emblazoned with a coat of arms.
---
emblazon definition by Webster's New World
transitive verb
to decorate or adorn (with coats of arms, etc.)
to display brilliantly; decorate with bright colors
to spread the fame of; praise; celebrate
Origin: em- (see en-) plush blazon
Webster's New World College Dictionary Copyright © 2010 by Wiley Publishing, Inc., Cleveland, Ohio. Used by arrangement with John Wiley & Sons, Inc.
---
emblazon definition by American Heritage Dictionary
transitive verb
em·bla·zoned
,
em·bla·zon·ing
,
em·bla·zons
a. To adorn (a surface) richly with prominent markings: emblazon a doorway with a coat of arms.

b. To inscribe (a prominent marking) on a surface: emblazon a cross on a banner.

To make resplendent with brilliant colors.
To make illustrious; celebrate: emblazoning a heroine's deeds in song.
Related Forms: