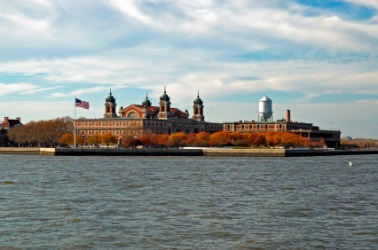 A view of Ellis Island.
---
Ellis Island
small, government-owned island in Upper New York Bay: former (1892-1943) examination center for immigrants seeking to enter the U.S.: 27 acres (11 hectares)
Origin of Ellis Island
after S.
Ellis
, a former owner
---
Ellis Island
An island of Upper New York Bay southwest of Manhattan. It was the main US immigration station from 1892 to 1943.
---
Ellis Island
Proper noun
A 27.5 acres island in the states of New Jersey and New York where millions of immigrants and others were processed.
---