Editor's Foreword to the Second Edition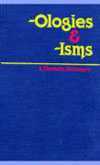 The usefulness and popularity of the First Edition of -Ologies & -Isms have encouraged us to delve deeper into the kind of systematic arrangement reflected in that book, and this Second Edition is the result. We have added about 1,000 words in their proper categories; in addition, for convenience we have listed all of the -phobias under PHOBIAS and have expanded DIVINATION to cover all words listed that deal with that category, especially those ending with -mancy. As before, the Index lists every word in the book that appears in boldface type, including variants and run-on entries.
Although we realize that we have not—by any means—exhausted the word stock of the language, we hope that this new, expanded Second Edition will find favor among those who resort to it.
Laurence Urdang
Essex, ConnecticutFebruary 1981
Link to this page
Cite this page
MLA Style
"Editor\'s Foreword to the Second Edition." YourDictionary, n.d. Web. 17 August 2018. <http://www.yourdictionary.com/editor-x2019-s-foreword-to-the-second-edition>.
APA Style
Editor\'s Foreword to the Second Edition. (n.d.). Retrieved August 17th, 2018, from http://www.yourdictionary.com/editor-x2019-s-foreword-to-the-second-edition
---