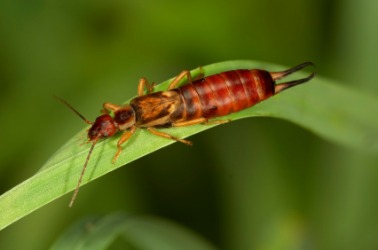 An earwig on a leaf.
---
earwig definition by Webster's New World
noun
any of an order (Dermaptera) of widely distributed insects with short, horny forewings, a pair of forceps at the terminal end of the abdomen, and biting mouthparts
Origin: Middle English erwig ; from Old English earwicga ; from eare, ear plush wicga, beetle, worm ; from Indo-European base an unverified form weik-, to wind, bend from source Classical Latin vicia, vetch: so called from the baseless notion that it particularly seeks out the human ear to crawl into
Webster's New World College Dictionary Copyright © 2010 by Wiley Publishing, Inc., Cleveland, Ohio. Used by arrangement with John Wiley & Sons, Inc.
---
earwig definition by American Heritage Dictionary
noun
Any of various elongate insects of the order Dermaptera, having a pair of pincerlike appendages protruding from the rear of the abdomen.
transitive verb
ear·wigged
,
ear·wig·ging
,
ear·wigs
To attempt to influence by persistent confidential argument or talk.
Origin: Middle English erwig, from Old English ēarwicga : ēare, ear; see ear1 + wicga, insect; see wegh- in Indo-European roots.