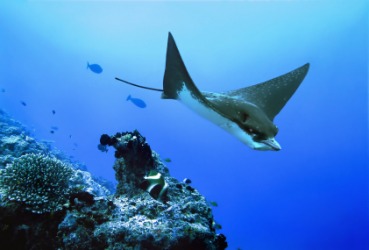 An eagle ray.
---
eagle ray
any of a family (Myliobatidae, order Myliobatiformes) of sharp-headed rays with flat teeth and a notched spine on the tail
---
eagle ray
noun
Any of various rays of the family Myliobatidae of tropical and subtropical seas, having platelike teeth used for crushing mollusks and large winglike pectoral fins, which they flap for propulsion.
---
eagle ray
Noun
(plural eagle rays)
Any of a group of cartilaginous fishes in the family Myliobatidae, consisting mostly of large species living in the open ocean rather than on the sea bottom.
---