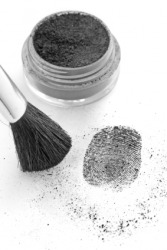 A specific dusting powder is being used to detect fingerprints.
noun
The definition of a dusting powder is fine light powder used on the skin.

An example of dusting powder is what people living in humid climates use to keep their skin from being shiny and sticky.
---
dusting powder
any fine, light powder used as an insecticide, medicine, toiletry, etc., or used to prevent sticking
---
dusting powder
noun
A fine powder, such as talcum powder, used on the skin.
---