Dunfermline
[dən fʉrm′lin]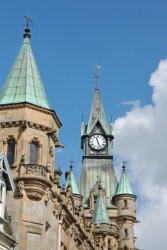 The old town hall in Dunfermline.
---
Dunfermline
city in E Scotland, on the Firth of Forth: district pop. 127,000
---
Dunfermline
A town of east-central Scotland northwest of Edinburgh. It was long a favorite residence of Scottish kings. Andrew Carnegie was born here (1835) and gave the town its library.
---