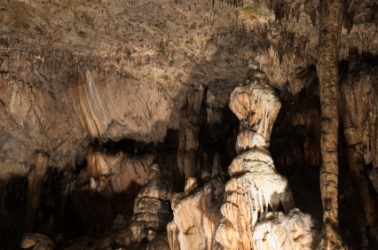 Dripstones in a cave.
---
dripstone
noun
a drip (sense ) made of stone
calcite or other similar mineral deposits, esp. a stalactite or stalagmite, formed in a cave by dripping or flowing water
---
dripstone
noun
A protective drip made of stone, as on a cornice over a door or window. Also called hoodmold.

a. A mineral deposit, such as a stalactite or a stalagmite, usually consisting of calcite, formed in caves from dripping water.
---
dripstone
Noun
(plural dripstones)
(architecture) A protective moulding over a door or window that allows rain to drip away from the structure
(geology) stalactites and stalagmites collectively
---