dream catcher
dream catcher
a traditional North American Indian artifact consisting of a hoop strung with a loose net or web and decorated with beads, feathers, etc.
Origin of dream catcher
so called from the belief that when hung over a bed, it
catches
bad
dreams
, but allows good dreams to pass through to the sleeper
---
dream catcher
or dream·catch·er
noun
A handicraft item consisting of a circular frame strung with loose webbing worked into a pattern around a central hole and often decorated with feathers and beads, used in certain Native American traditions as a charm to separate good forces or influences from bad ones.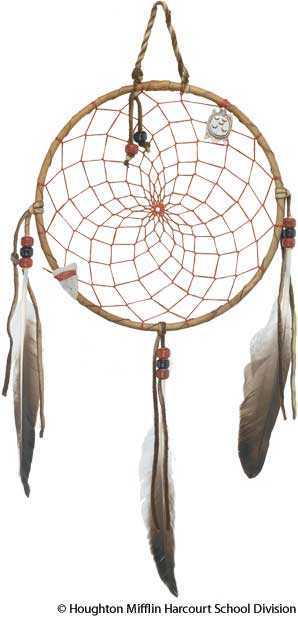 dream catcher
---
dream-catcher

Noun
(plural dream catchers)
Alternative spelling of dreamcatcher.
---