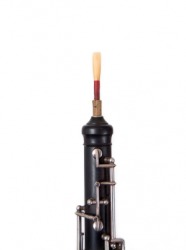 The double-reeds of an oboe.
---
double-reed
adjective
designating or of any of a group of woodwind instruments, as the oboe or bassoon, having two reeds that are separated by a narrow opening and vibrated against each other by the breath
noun
a double-reed instrument
---
double-reed
noun
A pair of joined reeds that vibrate together to produce sound in certain wind instruments, such as bassoons and oboes.
An instrument in which sound is produced by a pair of joined reeds.
Related Forms:
---
double-reed
---