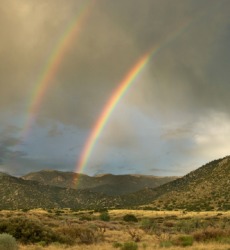 A beautiful double rainbow.
noun
The definition of a double rainbow is two arcs of color (red, orange, yellow, green, blue, indigo, and violet) caused by a double reflection of light shining through rain or moisture.How it happens: Light waves enter the suspended water droplets and bend. The light is refracted twice; once upon entering the raindrop and then again as it leaves. In between the two refractions, it is reflected off the back of the raindrop. So, it refracts when it enters, reflects off the back, and refracts as it leaves.

An example of a double rainbow is the two colored arcs seen in the sky after a storm.
---