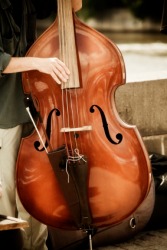 A musician playing a bull fiddle or double bass.
---
double bass
the largest and deepest-toned instrument of the violin family (formerly, of the viol family), with a range of approximately three octaves
---
double bass
noun
The largest bowed stringed instrument in the modern orchestra, also used frequently in jazz ensembles, especially played pizzicato. The double bass, usually considered a member of the violin family, is tuned in fourths and has the sloping shoulders and flat back characteristic of the viols. It has a deep range, going as low as three octaves below middle C. Also called bass fiddle, bass viol, bull fiddle, contrabass, string bass.
Origin of double bass
double
,
tuned an octave lower than (from the fact that a string or pipe that is twice the length of another gives a pitch an octave lower)
+
bass
2
.
double bass
---
double bass
---