noun
The definition of a domestic partner refers to someone other than a husband or wife with whom you are in a committed, serious and usually permanent relationship.

An example of a domestic partner is a man or woman's homosexual life partner.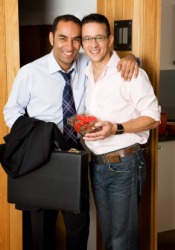 These men are domestic partners.
---
domestic partner definition by Webster's New World
either partner () of an unmarried heterosexual or homosexual couple in a relationship () considered as being equivalent to marriage for the purpose of extending certain legal rights and employment benefits
Webster's New World College Dictionary Copyright © 2010 by Wiley Publishing, Inc., Cleveland, Ohio. Used by arrangement with John Wiley & Sons, Inc.
---
domestic partner definition by American Heritage Dictionary
noun
A person, other than a spouse, with whom one cohabits.
Usage Note:
Many people would now agree that a couple can consist of persons living together who are not married or who are not of opposite sexes. How to refer to such a couple, though, has posed an interesting challenge. Many new words have been coined and tested over the last 25 years, including
spouse-equivalent
or
spousal equivalent; POSSLQ
(person of the opposite sex sharing living quarters), pronounced (pŏsˈəl-kyo͞oˌ) and originally used as a U.S. Census Bureau designation; and
companion
or
lifelong
(or
longtime
)
companion.
But these have never been in or have fallen out of general use. Thus the linguistic situation seems to reflect the continuing flux of the social situation. • Two other terms,
significant other
and
domestic partner,
however, have seen widespread use since at least 1985 as all-purpose words for describing a spouse or a lover. Over 75 percent of Usage Panelists feel these terms can be applied to members of either straight or gay couples.
Domestic partner
has been used by an increasing number of companies and organizations in drafting benefits plans that include all members of such relationships. The term is often shortened to
partner,
especially in unofficial situations.