domestic partner
domestic partner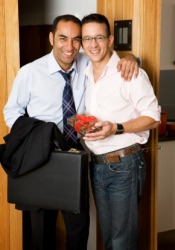 These men are domestic partners.
noun
The definition of a domestic partner refers to someone other than a husband or wife with whom you are in a committed, serious and usually permanent relationship.

An example of a domestic partner is a man or woman's homosexual life partner.
---
domestic partner
either partner (noun) of an unmarried heterosexual or homosexual couple in a relationship (
domestic partnership
) considered as being equivalent to marriage for the purpose of extending certain legal rights and employment benefits
---
domestic partner
noun
A person other than a spouse with whom one lives and is romantically involved.
---