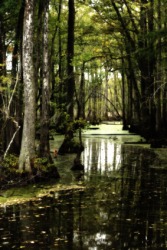 The Dismal Swamp.
---
Dismal Swamp
marshy, forested region between Norfolk, Va., & Albemarle Sound, N.C.: c. 30 mi (48 km) long; traversed by a canal that is part of the Intracoastal Waterway
---
Dismal Swamp
or Great Dis·mal Swamp
A swampy region of southeast Virginia and northeast North Carolina. George Washington surveyed the Dismal Swamp in 1763. Much of the heavily forested area has been drained and cleared for agriculture.
---