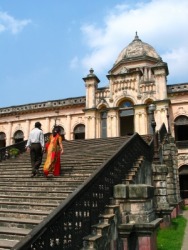 A palace in the city of Dhaka.
---
Dhaka
capital of Bangladesh, in the WC part: pop. 11,726,000
---
Dhaka
also Dac·ca
The capital and largest city of Bangladesh, in the east-central part of the country. It was the Mughal capital of Bengal in the 1600s and came under British rule in 1765. After India achieved independence in 1947, Dhaka was made the capital of East Pakistan, which became Bangladesh in 1971.
---
Dhaka
---