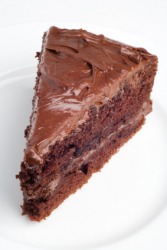 This cake is delish!
adjective
The definition of delish is slang and is short for delicious, which is an adjective that is something yummy or tasty.

An example of something that would be described as delish is a wonderful, moist piece of chocolate cake.
---
delish
---
delish

Adjective
(comparative more delish, superlative most delish)
(slang) delicious

2007, David Else, England, p. 144:
2000, Kathryn Glasgow Stern, Another Song about the King: A Novel, p. 262:

"Ummm. Sounds delish." I don't know what to say; this is what comes out. "Yes, delish."

1997, James Grippando, The Informant, p. 239:
1956, Julian Maclaren-Ross, The Funny Bone, p. 36:

Not that I want to rush you, but that'd be simply delish!
Origin
Abbreviated phonetic form.
---