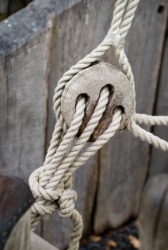 A deadeye and rope lanyard on a sailing ship.
---
deadeye
noun
a round, flat block of wood with three holes in it for a lanyard, used in pairs on a sailing ship to hold the shrouds and stays taut

Slang

an accurate marksman
---
deadeye
noun
Nautical A flat hardwood disk with a grooved perimeter, pierced by three holes through which the lanyards are passed, used to fasten the shrouds.
Slang An expert shooter: a deadeye with the rifle.
deadeye
---
deadeye
Adjective
(not comparable)
Very accurate with shooting or throwing.
About a stare: cold; unfriendly.
---