Davis Jefferson
Davis
Jefferson 1808-1889
American soldier and president of the Confederacy (1861-1865). He was captured by Union soldiers in 1865 and imprisoned for two years, and although he was indicted for treason in 1866, he was never prosecuted.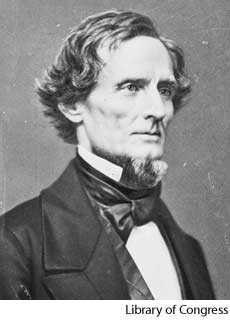 Jefferson Davis
photographed between 1855 and 1865
Link to this page
Cite this page
MLA Style
"Davis Jefferson." YourDictionary, n.d. Web. 21 August 2018. <http://www.yourdictionary.com/davis-jefferson>.
APA Style
Davis Jefferson. (n.d.). Retrieved August 21st, 2018, from http://www.yourdictionary.com/davis-jefferson
---